Buy Patient Monitor System at cheapest price – Best Patient Health Monitor System is available.
Patient health monitoring system or patient monitoring system involves monitoring of patients health & related parameters remotely by means of devices that transfers patient data to remote locations. The systems consisting of small sensor devices that can collect and deliver information by detecting environmental conditions, for example, temperature, humidity, light, sound, pressure, vibration, PH value etc. Continuous monitoring of patient health is important during treatment.
At Shirasmane we understand the need of Health Care Industry. Our team is engaged in providing solutions for Patient Monitor System. You can buy Patient Health Monitoring devices from us directly. Below are some of the devices we provide, such as:
Blood Pressure Monitoring Machine
Capnometer , Medical Monitor , Surgical Monitor
Finger Tip Pulse Oximeter , Smart Oxy Finger Tip Pulse Oximeter
NIBP Measuring Patient Monitor
SPo2 and NIBP Measuring Patient Monitor , Multipara Patient Monitor
Standard Healthcare Cardiac Multipara Patient Monitor
ECG Patient Monitor Machine (ET-U12)
Infrared Thermometers , Forehead Thermometer, Non Contact Thermometer, Digital Thermometers
ICU Ventilator , Portable Medical Ventilator, Transport Ventilator , Siemens Ventilator
Ventilator Circuits
Buy from Us – 50% Discount – We are offering below Patient Monitoring Fingertip Pulse Oximeter at 50% OFF.
Contact us on WhatsApp +91-9730176230

Fingertip Pulse Oximeter –

50% OFF
Dual Color OLED Display Blood Oxygen Monitor with alarm feature with perfusion index
Features & Advantages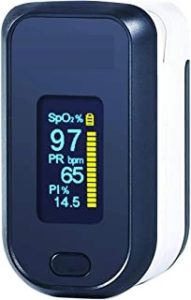 Accurate and reliable – Accurately determine your spo2 (blood oxygen saturation levels), pulse rate and Respiratory Rate (RR) and display it conveniently on a large digital OLED display.
As per Standard: Manufactured as per the standards for pulse oximeters used by doctors and other health professionals.
Accuracy: The ONLY LED pulse oximeter that can read and display up to 100% for spo2 value. Spo2 and Pulse Rate readings now face the user instead of away for easy read. Accommodates wide range of finger sizes.
Loaded with accessories – Includes 2 X AAA Batteries that will allow you to use the pulse oximeter right out of the box, and a Lanyard to wear it in the neck for convenience.
Unique feature: Auto Power On & Off, Water-Resistant, Buzzer-Visual Alarm. Light and compact, accommodates wide range of finger sizes, long battery life. Low battery indication
1 YEAR WARRANTY – individually tested for accuracy: Each device undergoes rigorous testing and is approved for use by the CE carry 1 year warranty.
Patient care monitor has become essential device for any healthcare professional or hospitals. We provide best multi parameter patient monitoring devices as well. You can purchase instant real time patient health monitoring system from us. Our Experts can guide you choose right ways to get more Patient Monitor System for you. You can buy bulk volume quantity of central monitoring system in icu, icu patient monitoring system, bedside standard monitoring system , continuous patient monitoring system , central patient monitoring system. You can buy in quantity like 1000, 5000, 10,000 units or 1 or 2 units also.  Our sles experts can offer you best multi parameter patient monitor price and give patient care monitoring system details. If you need patient video monitoring systems , real time health monitoring devices and intensive care monitoring system feel free to contact us on WhatsApp +91-9730176230 .
Feel free to discuss with our team before finalizing Patient Monitoring System prices or before buying.
We have networked with leading Patient Monitoring Devices manufacturers, suppliers and exporters in Pune, Mumbai, Bangalore, Delhi, Hydrabad Chennal , to offer best products & solutions to our customers. This includes ICU Patient Monitoring System Devices suppliers, manufacturers, wholesalers & traders.
Apart from this we also regularly review various products available in the market and recommend it to our customers to meet their requirement.
Our team spends thousands of hours researching, evaluating , compare & testing products, to come up with carefully selected products trusted by millions of consumers worldwide.
OXYSAT – Finger Tip Pulse Oximeter with SpO2
Why People Love It?
– Quick Readings
– High Accuracy
– Anti Shaking
– Made in India
OXYSAT – Finger Tip Pulse Oximeter with SpO2 provides Quick Readings at the comfort of your homes. It provides very High Accuracy, measures the oxygen concentration in the blood with a minimum deviation of +/-2% (80-100% accuracy). It is very Small & Light Weight. Weighs only 52g (including two AAA batteries) and required very Low Power Consumption.
Expert Ratings & Recommendation based on our research:



Get From Amazon
151 Brought
MEDITIVE Fingertip Pulse Oximeter
Why People Love It?
– Comes with Dual Color OLED Display Blood Oxygen Monitor
– Alarm Feature with Perfusion Index – PI Index and Respiratory Rate
– Easy to carry, Can fit in any pocket
– Accurate and fast
– You can toggle between four different display directions/modes
– Spo2, Perfusion Index, Respiratory Rate, Pulse Rate and plethysmogram waveform bar
– Well built & reasonably priced
Expert Ratings & Recommendation based on our research:



Get From Amazon
1,088 Brought
BPL Smart Oxy Finger Tip Pulse Oximeter (Black)

BPL Medical Technologies BPL Smart Oxy Finger Tip Pulse Oximeter (Black)
CONTEC CMS 5100 SPo2 and NIBP Measuring Patient Monitor

CONTEC CMS 5100 SPo2 and NIBP Measuring Patient Monitor (White )
CosmoCare K Life 5 Para Patient Monitor
Galaxy Patient Monitor SPo2 and NIBP measuring Contec CMS 5100_White
Ecomed Multipara Patient Monitor EPM-50
Autotronics Fingertip Pulse Oximeter

Multipurpose Digital Monitoring Pulse Rate & SPO2 with OLED Digital Display and
with a FREE Carry Bag for Safer Keeping
DR VAKU® DR01 Swadesi Finger Tip Pulse Oximeter

Multipurpose Digital Monitoring Pulse Meter Rate & SpO2 with OLED Digital
Display [Battery included]
Eyetech Pulse Oximeter Fingertip
Multipurpose et8 Digital Monitoring Pulse Meter Rate & SpO2 with OLED Digital
Display [Battery included]
SCURE Finger Tip Pulse Oximeter (Black) FTP 1000
Dr Trust Professional Series Finger Tip Pulse Oximeter

Dr Trust Professional Series Finger Tip Pulse Oximeter With Audio Visual Alarm
and Respiratory Rate (RED)
Eyetech Oximeter, Multipurpose Digital Monitoring et7

Pulse Meter Rate & SpO2 with OLED Digital Display

Standard Healthcare Cardiac Multipara Patient Monitor
Contec Multipara Patient Monitor CMS 8000
For More details feel free to contact us on WhatsApp +91-9730176230
Topics of Interest: