Cloud Application Development and Migration


Shirasmane is a fast-growth Cloud Application Development company. We provide solutions for cloud platforms such as Windows Azure, Amazon EC, Google App Engine etc. Being an early adopter of this technology we have developed as in-house expertise in the technology. We help utilize the benefits of Cloud Solutions and Services to improve agility in business operations and reduce CapEx by leveraging a wealth of solution accelerators, developed over time.
We offer a full suite of products and services, developed to the most stringent technical standards, and uncompromising attention to detail. Whether you're looking for a one-off, turn-key or enterprise solution, our Cloud application development experienced staff of engineers, graphic designers, creative and strategic personnel, will help you achieve your vision.
Our Cloud application development process includes not only the design and development of apps, but also a Advisory & consultancy, consultative front-end and back-end maintenance and support.
Our Cloud Services are primarily categorized in three types
1. Cloud Assessment and Advisory Services
2. Cloud Application Development and Maintenance Service
3. Cloud Migration and Integration Services
1. Cloud Assessment and Advisory Services
As Cloud Computing technology is relatively new, many a times customers are not sure about what steps they need to take if they want to move to cloud. Our Cloud Assessment and Advisory services helps in evaluating the business and IT value in the light of Cloud services. Cloud Assessment and Advisory Services are focused primarily towards serving the needs of the customers customers who are relatively new to the Cloud platform but unsure how it would help them. We provide methodical approach towards the transition to the Cloud by handholding them through advisory workshops, as-is and to-be assessment exercises and pilot implementation phases.
Our Cloud Assessment and Advisory Services contains

Pre-assessment Workshop to
– Identify customer objectives / drivers / expectations
– Prioritize and decide way forward
Advisory Phase
– Analyze which applications are better suited for Cloud
– Identify what can be quickly piloted
Pilot Phase
– Implementation of Pilot
– Future Roadmap for production rollout
2. Cloud Application Development and Maintenance Service
Under these services, we provide application development and maintenance across the cloud platforms considering PaaS and SaaS. As part of this offering, we help our customers in the development of SaaS and PaaS solutions on multiple technologies and platforms. Our Services are broadly classified in following areas:
Analysis
– Define non-functional requirements
– Define Approach
– Choice of Cloud Platform
Design
– Functional Mapping
– Multi Tenancy
– Security & Compliance
– On and Off – premise Integration scenarios
Build
– Build (on- or off- premise)
– Review
– Deployment to Cloud Test environment
Test
– System Testing
– Scalability Testing
– Integration Testing (on- and off- premise)
– UAT
Deploy
– Deployment to production cloud environment
Manage
– Transition
– Cloud based monitoring
– Back-to-back SLAs with Cloud provider and customer
3. Cloud Migration and Integration Services
Since cloud technology adoption is increasing into the enterprises, integrating SaaS applications with existing on-premise applications or other cloud applications is becoming necessary. Enterprises use a variety of approaches from point-to-point integrations using custom code, to hub-and-spoke integrations, to real-time integrations using an enterprise service bus.
In this offering, we provide consultancy and professional services in migrating existing on-premise application into the Cloud.
Cloud Application Migration Services
  – Migration Analysis
– SaaS Enabling (Optional)
– App and Data Migration
– Integration
Cloud Integration Services
  – Integration Analysis :
– PoC & quick Pilot
– Implementation & Testing
Our 8 Step Process:
Through our ongoing & endless efforts we are building a strong cloud services model. Below is a glimpse of our 8 Step Cloud App development methodology:

Define: Cloud Application Roadmap Definition
Select: Cloud Platform Selection
Architecture: Architecting or Re-architecting decision
HLD: Solution Design
Prototype: Rapid POC or Prototype development
LLDDI: Low Level Design, Development, Testing & Integration
Deployment: Deployment & Training
Maintenance: Steady State Application Maintenance & Management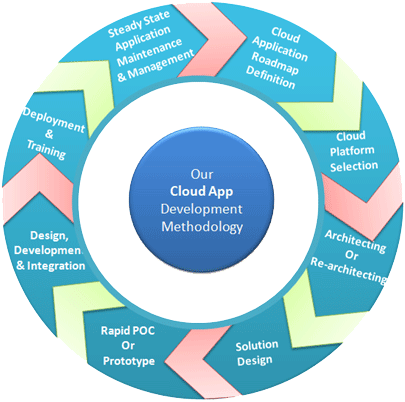 With our high quality focus and offshore based operations, we can provide huge savings in your IT budgets and at the same time improve app quality and maintain high service levels.
Contact Us
We work closely with our customers. Our specialists discuss and understand your business objectives, and then propose the best solution as per your need and budget.
Contact us for a free quote on Cloud Application Development or Migration Services and we will be pleased to come up with the proposal providing our analysis of the assignment.
Topics of Interest: