Multi Vendor Ecommerce Website Store Platform Shopping Cart Price
Multi Vendor Ecommerce Website Store Platform Shopping Cart is a new low price solution of e-commerce platform that is becoming more and more popular in the web, just think of websites such eBay, Amazon, FlipKart, SnapDeal, Alibaba etc. which are setting the new trends for online shopping.
Multi vendor ECommerce website offers customers a higher number of products from different suppliers and therefore a wider selection of products & services. Multi Vendors or Multi Sellers can setup their own shopping store & sell products from their own catalog. Multi Vendor Shopping cart's are available so that customers can continue a great shopping exprience. Multiple vendors, Multiple sellers or Multiple Suppliers can Buy & Sell their products & services from the same Multi vendor platform.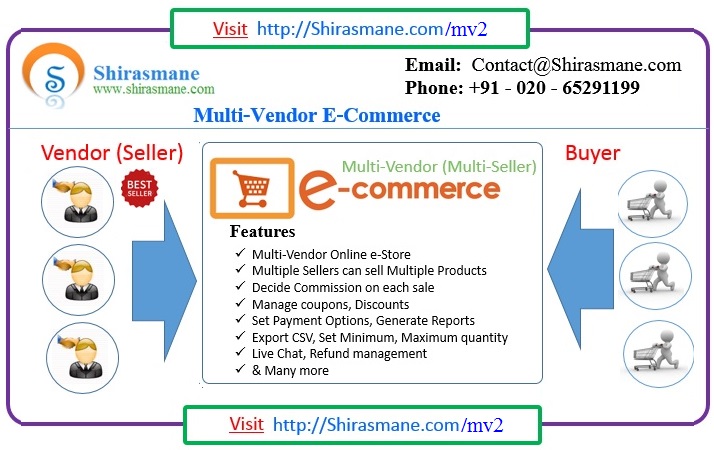 Is your business accepting payments Online? Is your businesses E-Commerce friendly? with demonatization of high currency notes (such as in India Rs.500, Rs.1000 notes) customers are giving more Preferences to Online-Payments using Credit Card, Debit Card, NEFT, etc. in coming days huge increase is expected in Ecommerce industry & launch of online Portals..!
Make your business/website E-commerce friendly to accept payments Online..!!
Shirasmane Softwares's (www.Shirasmane.com) is a leading provider of E-Commerce Solutions. We help businesses
launch E-Commerces websites, Applications, Softwares etc. We provide various E-Commerce solutions inlcuding
(but not limited to) following:
1) E-Commerce Shop/Store – Sell your products & services from your website directly
2) Multi-Vendor/Multi Seller E-Commerce Platforms like Amazon, FlipKart, eBay, SnapDeal etc.
3) E-Commerce Consultancy & complete ECommerce Business Setup
Feel free to check our other solutions:
https://shirasmane.com/ec2 – Ecommerce shopping packages
https://shirasmane.com/mv2 – Multi-Vendor Ecommerce Solutions
Feel free to contact us for more information.
Contact Us:
Contact us to know more about Multi Vendor Ecommerce or Multi Seller Ecommerce or Custom E-Commerce website development services or for additional free quote and we will be pleased to come up with the proposal as per your need and budget.
Topics of Interest: